The Grammys was really an Adele show, with Adele bagging 6 Grammys this year – it sure looked like she was having a hard time balancing these beauties, very much like yoyo toys, dont' you think?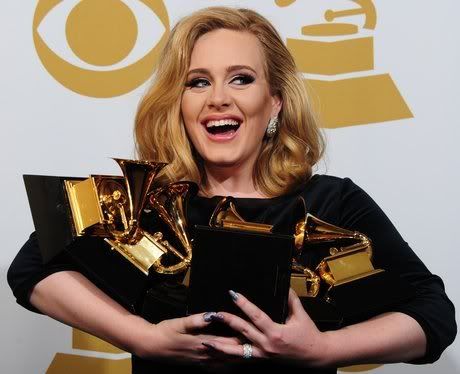 She recently said in an interview that she will be slowing down with her career and focusing on her lovelife and maybe start a family. She said that she always lets love slide whenever she focuses on her career and it was time to focus on love for awhile.
I sure she still makes good music!
Album Of The Year:
21 — Adele
Record Of The Year:
"Rolling in the Deep" – Adele
Best New Artist:
Bon Iver
Best Country Album:
Own The Night – Lady Antebellum
Song Of The Year:
"Rolling in the Deep" — Adele
Best R&B Album:
F.A.M.E. – Chris Brown
Best Rock Performance:
"Walk" – Foo Fighters
Best Rap Performance:
"Otis" – Jay-Z & Kanye West (ft. Otis Redding)
Best Pop Solo Performance:
"Someone Like You" – Adele