Can you tell I've missed Glee? I can't wait for the February 6th comeback episode.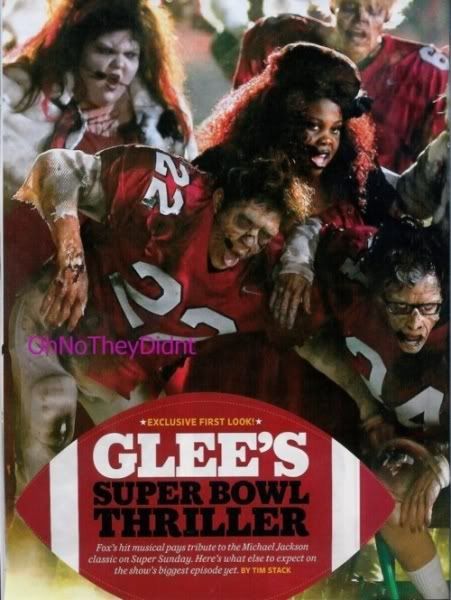 The episode will focus on the increasing tension between the glee club and the football team, instigated by closeted player Karofsky's (Max Adler) bullying of gay teen Kurt (Chris Colfer). To force a truce at the school, Will (Matthew Morrison) and Coach Beiste (Dot-Marie Jones) make the jocks join the glee club. When the plan inevitably backfires, look for the ladies of New Directions to help their male pals on the field.
Meanwhile, Sue (Jane Lynch) is after a cheerleading competition title and thinks the best way to impress the judges is to risk the life of Brittany (Heather Morris). "I put her in a human cannon," says Lynch. "I'm told by the principal I can't because of insurance considerations and liability, and I destroy his office in a rage, the likes of which have not been seen." Sue's exploits actually nab the attention of CBS news anchor (and admitted Gleek) Katie Couric, who interviews the Cheerios coach in the episode.
It's Sue's Cheerios who also deliver the episode's other explosive performance, an opening dance to Katy Perry's smash "California Gurls" designed to keep male viewers glued to the screen after the game…Describes Morris,
"It's BMXers and girls, and not only are they shooting fire out of their boobs, but there's a fire whip. Then there's all of us cheerleaders in blue wigs and all we do is shake our ass. It's crazy." Adds Falchuk, "We stuff in there understanding that there are a lot of dudes who watch the Super Bowl. So it was making sure that the dudes who refuse to watch Glee are like, Wait a second!" Flaming breasts tend to have that effect.
OTHER spoilers:
Prepare for the show's couplings to be shuffled. Most surprising? Resident hot blonds Sam (Chord Overstreet) and Quinn (Dianna Agron) will start seeing other people. Explains Murphy, "I got bored. They were too perfect." But that doesn't mean that Sam will be on his own. "He starts dating Santana," says Murphy. "He needs a little salsa spice." Murphy adds that Quinn will also find comfort in the form of her old boyfriend, Finn. Shocking!
Speaking of potential romances, the Super Bowl ep will also feature a duet of Lady Antebellum's "Need You Now" by Puck (Mark Salling) and Rachel. Ms. Berry will later team with Mercedes (Amber Riley) on Rent's "Take Me or Leave Me."
You can view pictures here.
**From the Glee Forum (DiannaCory85 )
I am so excited for the songs too: